The Gilded Leaf is the riveting, dramatic saga of the R. J. Reynolds tobacco family, one of America's richest and most intensely private clans.  R.J. was the original founder of the company that became part of RJR Nabisco, which in 1988 was involved in the largest business takeover in history. Spanning three generations, the Reynolds's story moves from the triumphs of founder and corporate genius R. J. to the dissipation, scandal, and tragedy that plagued his children and grandchildren. There is a redemptive close, with grandson Patrick Reynolds founding Tobaccofree Earth and becoming a leading anti-smoking advocate.
The Gilded Leaf presents, for the first time, a complete account of the family who captured, spent and redeemed the American dream.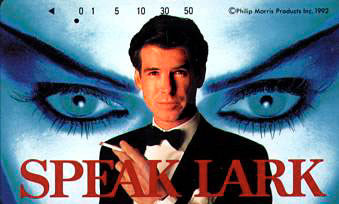 We uncovered this photo of an old ad for Lark cigarettes with Pierce Brosnan, who is now an anti-smoking role model. This Lark ad was seen in Japan. But Brosnan saw the error of his ways, and has since shown tremendous leadership in the Hollywood community, when he vowed he would smoke no more as James Bond. His dramatic turnabout set a good example for other stars, and for youth who see him as James Bond.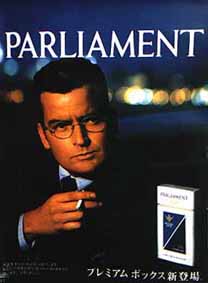 Charlie Sheen's ad for Parliament ran in Japan. Mr. Sheen set a bad example for Japanese youth who look up to him.
Just a few years ago, some producers would take large payments from the tobacco companies to place cigarette brands in films. The producers of the James Bond film License to Kill took a $350,000 payment to have James Bond smoke Larks in the movie — and James Bond is a role model for young boys.
In Superman II, woman reporter Lois Lane, who is a nonsmoker in the comics, chain-smoked Marlboros, and the Marlboro brand name appeared some 40 times in the film. Tobacco giant Phillip Morris paid a mere $40,000 to the producers for this cunning promotion. Of course, Lois Lane is a role model for young girls.
Sylvester Stallone took a $500,000 payment from one tobacco company to smoke their brand in three of his films. Phillip Morris even placed its products in, astoundingly, Who Framed Roger Rabbit? and The Muppet Movie.
Hollywood swears that it has stopped placing cigarette brands in films — but we know of one instance in which a tobacco company helped finance a film, and then put its products prominently in it. U.S. Tobacco, which makes most of the chewing tobacco, had a movie production division which made a movie, Pure Country, in which handsome, good-old-boy cowboys chew. Fortunately, it bombed, to the relief of anti-smoking advocates.
There have been more recent reports of cigar companies paying to promote cigars in films. Movie stars have done a great deal to help popularize cigars, such as Will Smith and Jeff Goldblum in Independence Day. Arnold Schwartzenegger, Bruce Willis, Demi Moore, and Pierce Brosnan, all appeared on the cover of Cigar Aficionado magazine. These stars' use of cigars makes a powerful statement which is not lost on teens as they browse through the nation's magazine racks. Cigars cause mouth and throat cancer, as well as poisoning the air with extraong second hand smoke.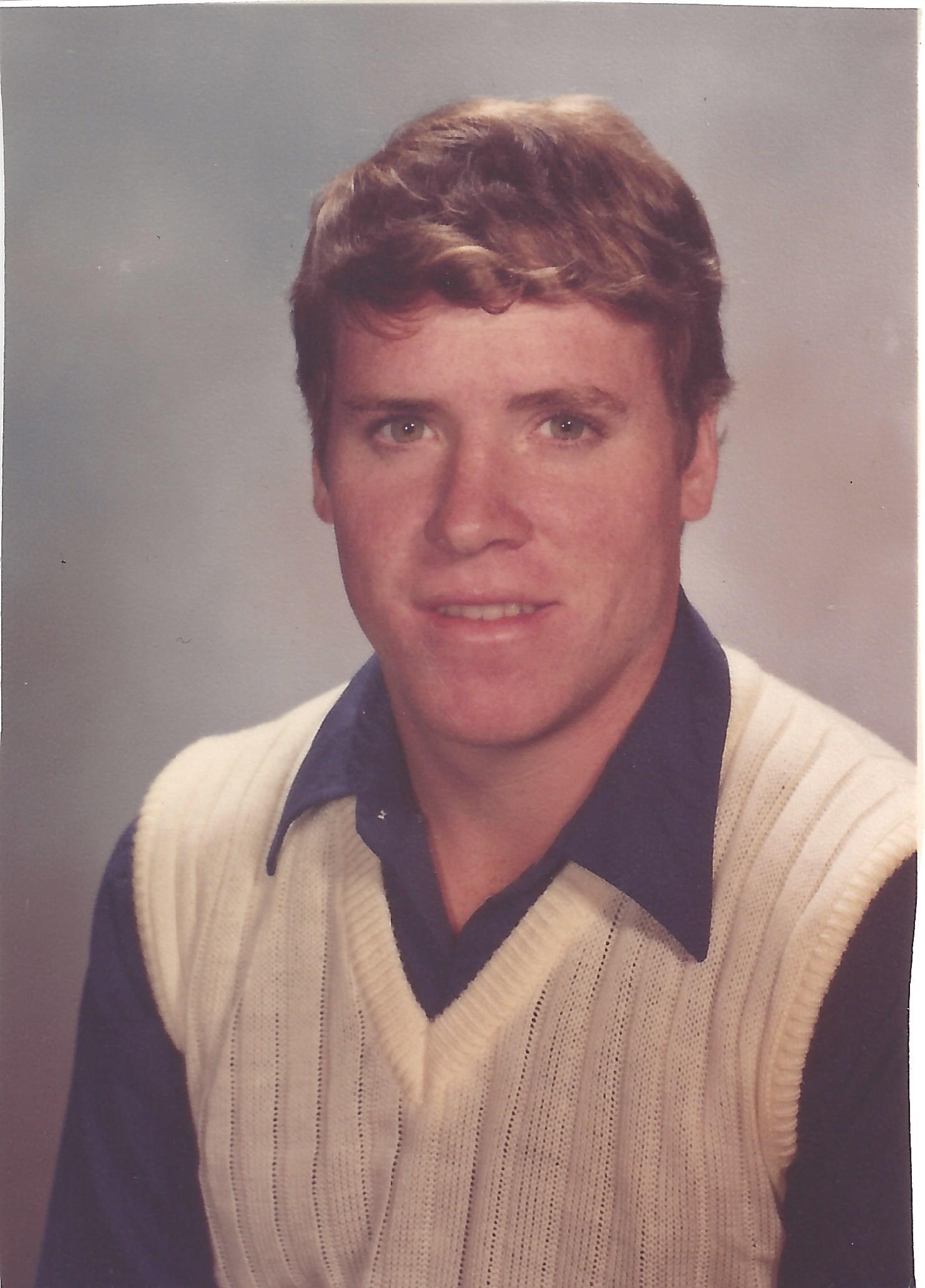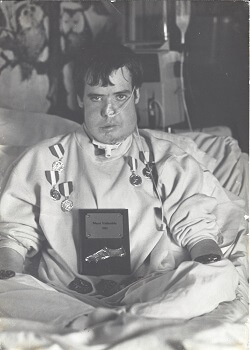 Sean at age 19, shortly before his death.
In both our educational video and on our Message to Youth page, we tell the moving story of Sean Marsee, a high school athlete who had won 28 medals in track competitions. He chewed tobacco and, with his athletic prowess and excellent health, never thought he would get cancer. But he did. He then endured three operations. The first removed his tongue, and by the final surgery, he'd lost parts of his jaw, nose and many of his neck muscles. Sean died at age 19, sad and disfigured, and in unthinkable pain. For the video clip from The Truth About Tobacco in which Patrick Reynolds tells Sean's story, see the 6th clip down the page at tobaccofree.org/clips/.
The photos above and his story are Sean's legacy and his gift to those who are experimenting with, or already addicted to, chewing tobacco. A USA Today column wrote of our video's presentation of Sean's story, "This was probably the most effective argument I found online." You can read it on our Message to Youth page or see the YouTube clip of it from our video.
Both photos courtesy of the following: The American Cancer Society, Betty Marsee and especially Sean's brother, Jason Marsee.
thetruth.com exposes the truth about tobacco, so you can have all of the information necessary to make up your mind for yourself. This site gets up to 200,000 visitors per month. Sponsored by the $1.45 billion Washington DC American Legacy Foundation, formed in 1998 as part of the settlement of the States' lawsuits against Big Tobacco. Cool site!
http://www.getoutraged.com
If you are angry about tobacco use, here is great way to make your feelings heard. This site has way cool graphics and design, and at the What Can I Do link, you can make a difference in a few seconds.
http://www.quit4life.com 
Follow the stories of four young people as they try to kick their habit in "Quit 4 Life," a unique interactive site that offers important advice for those trying to quit smoking. This is a very cool site, in the extreme.

The opening animated page says it all — YOU are a target. But your mind is a weapon. "Question It" provides tips to help smokers win their personal battle against tobacco. Their Kickin' Tips are truly excellent.
WhyQuit.com
Brace yourself, and then check out this incredibly moving photo of a 34 year old man dying from smoking-caused lung cancer, posted at this excellent site. In this powerful photo, published in the St Petersburg (Florida) Times, Brian Lee Curtis is gravely ill. His wife cries during her bedside vigil, as she holds their young son in her arms. WhyQuit.com is a great site, full of reasons to avoid starting to smoke.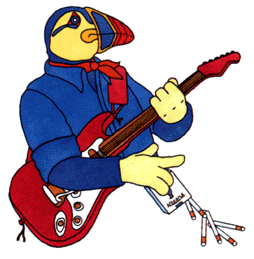 The Dirty Rotten Truth About Tobacco
THIS LANDMARK BOOK for the very young communicates, in a colorful and compelling way, the dangers of cigarette smoking and tobacco addiction. It bares the truth about things children will never see in cigarette and tobacco ads, and sheds light on the people who make it all possible — the tobacco companies and the government. (From Foreword by Patrick Reynolds)