November 29, 1999
Contact: Office Manager or Patrick Reynolds
Tel: (310) 577-9828
FROM TOBACCO PITCHMAN TO ROLE MODEL
Pierce Brosnan's Lark ad, and his about face and trailblazing later promise
not to smoke as James Bond
Pierce Brosnan once appeared in this ad and in a TV commercial for Lark cigarettes in Japan. The ads have not been seen before in the US.
However, Brosnan later saw the light, and forswore smoking as James Bond.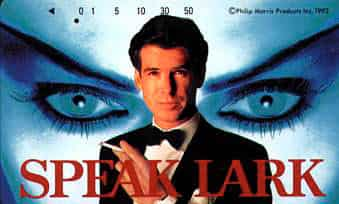 Click on the above photo
for a larger file
"Brosnan's promise not to smoke as Bond shows strong leadership in the Hollywood community. It stands as a trailblazing example for other film stars," said Patrick Reynolds, an anti-smoking activist from the Los Angeles group, Tobaccofree.Org. "We hope others will follow his courageous lead."
Like Brosnan, Reynolds has also changed his views about cigarettes: he's a grandson of R.J. Reynolds. Patrick's father, R.J. Reynolds, Jr., died from smoking in 1964.
"Our mission is to build awareness among youth of smoking by movie stars," says Reynolds. "They have a strong influence over our kids. We also want to send a message to Hollywood. Our policy is not to censor the movies, but instead to deliver a little healthy shame to stars who glamorize tobacco," said Reynolds. "If a film glamorizes smoking, we think theatres playing it should run an anti-tobacco spot among the previews."
Such anti-smoking spots ran in movie theatres in Florida, which later reported a 19% drop in youth smoking as a result of its wider Truth Campaign, which also uses TV, radio and billboard ads, and materials distributed in schools. The Truth Campaign is sponsored by the Florida Department of Health's Tobacco Pilot Program in Tallahassee.
Near the beginning of his new film 'The World Is Not Enough,' Bond presents a cigar to Moneypenny, saying, "I thought you might appreciate this." But she promptly throws it into the trash. In The Thomas Crown Affair, Brosnan made a choice not to smoke at all.
Other stars who have been criticized for smoking in films include Winona Ryder, John Travolta, Ethan Hawke, and Gwenneth Paltrow, Will Smith, and Sylvester Stallone.
Charlie Sheen also appeared in a tobacco ad in Japan, for Phillip Morris' Parliament.
The James Bond movie 'The World Is Not Enough' opened on Friday, Nov 19.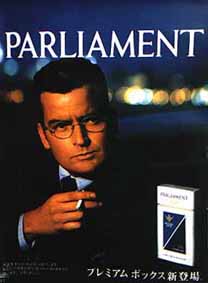 Charlie Sheen's Parliament ad,
also run in Japan
(No larger file available)
Additional Resources
http://smokefreemovies.ucsf.edu/ is the best website we know of on this topic.
tobaccofree.org//wp-content/uploads/brosnan_large.jpg
A large photo file of Brosnan's ad for Lark cigarettes
www.tobacco.org At this site, on the left pane, under Archives, click on the link 'Search News'. Type in Pierce Brosnan.
tobaccofree.org/films.htm A recent report on smoking in films.
tobaccofree.org/photos Additional photos, Patrick Reynolds' bio
http://www.gwjapan.com/ftp/pub/policy/gao/1993/93-38.txt Excerpt from a 1993 United States General Accounting Office Report: "…They may, however, use American entertainers, such as movie stars, in cigarette advertisements to project a 'made in USA' theme (i.e., to show that it is a U.S. product). For example, James Coburn, Pierce Brosnan, and Robert Wagner starred in a series of TV commercials (adventure vignettes) for Philip Morris' Lark brand Cigarettes in Japan…."