Triumph, Tragedy, and Tobacco
Three Generations of the R. J. Reynolds Family and Fortune
by Patrick Reynolds & Tom Shachtman
Scroll down for reviews, press release, and photos.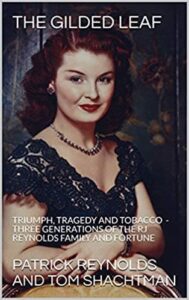 Order from Amazon in print or on Kindle
To order from the publisher:
(844) 349-9409 x 5022 Sales
Contact Patrick Reynolds at (310)577-9828 or email at Contact us
Contact Tom Shachtman through his website, TomShachtman.com
Reviews
"Fascinating…Illuminating…stunning detail."
Chicago Tribune
"Fascinating insight into the evolution of a family over three generations that is simply a good read…panoramic sweep, bitter irony and tragic touches."
Detroit Free Press
"Fascinating insider's view of three generations of the R. J. Reynolds tobacco family…compelling."
Richmond Times-Dispatch
"An altogether fascinating story [that] quickly builds speed and interest and becomes an absorbing story of fortune and misfortune."
Washington Post Book World
"Readers of this captivating account may need to remind themselves that it is not fiction. There are colorful characters, a family rising from humble beginnings to attain fabulous wealth and power, scandal and tragedy wrought by excess—and an irony-laden finale."
Publishers Weekly
"A courageous and worthwhile book. More than an entertainment, it documents the danger of parents who confuse money with love."
New York Times
"Fiction doesn't get any better than this. It's the kind of true-life story Hollywood scriptwriters dream about — murder, mayhem, messy divorces, titillating escapades of a tobacco dynasty, souls bared to the tabloids, racing through life in the fast lane…The Reynolds family makes TV's 'Dynasty' look downright hokey."
The Washington Times

Press Release 
The Gilded Leaf is the riveting, dramatic saga of the R. J. Reynolds tobacco family, one of America's richest and most intensely private clans.
R.J. was the original founder of the company that became part of RJR Nabisco, which in 1988 was involved in the largest business takeover in history.
Spanning three generations, the Reynolds family story moves from the triumphs of founder and corporate genius R. J. to the dissipation, scandal, and tragedy that plagued his children and grandchildren.
There is a redemptive close, with grandson Patrick Reynolds founding Tobaccofree Earth and becoming a leading anti-smoking advocate.
The Gilded Leaf presents, for the first time, a complete account of the family who captured, squandered, and redeemed the American dream.

Photos
Below each thumbnail are links to download high-resolution files. 
PERMISSION

Most photos on this page are labeled, No permission required. These may be reproduced without permission and are licensed under a Creative Commons Attribution 4.0 International License. Attributions for photos are below each image, with links to high-resolution files.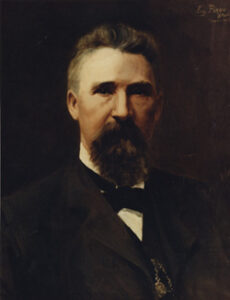 Photo 32 – RJ Reynolds
No permission required, credit Tobaccofree.org
Above: R.J. REYNOLDS founded the tobacco company in 1875, and began manufacturing Camel cigarettes in 1913. He died in 1918 of cancer of the pancreas, after a lifetime of chewing tobacco — the same product which established his fortune, and earlier, his father's. He married at age 53, and died at age 67, when his eldest son, RJ Reynolds, Jr., was only 12. As a result, R.J. Jr. would never spend much time working in the tobacco business, nor would R.J. Jr.'s daughter or 6 sons.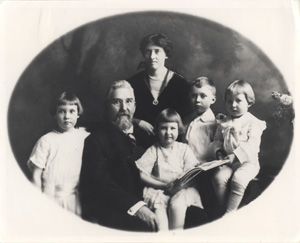 No permission required, credit Tobaccofree.org
Above: R. J. and Katherine's family life was full in the days just before the Great War; while they built Reynolda, they lived in a Victorian wedding cake house on Winston's Fifth Street.From left: Mary, RJ Sr, Katherine (wife of RJ), Nancy (seated), Dick (RJ Jr), and Smith.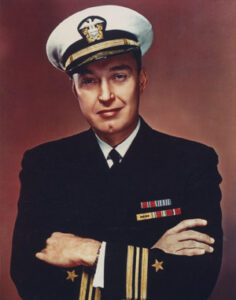 BEFORE: R.J. Reynolds, Jr. in 1946, age 40, in his Navy uniform, around the time of his wedding to Marianne O'Brien.
No permission required, credit Tobaccofree.org
R.J. Reynolds, Jr. in 1946, in good health at age 40. A Lieutenant-Commander in the Navy in WWII, he was navigator for a task force in the Pacific. He smoked since his teens, first Camels and later Winstons.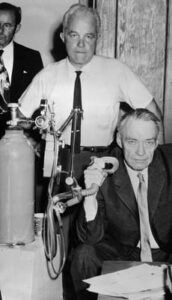 AFTER: R.J. Reynolds, Jr. in 1962 with oxygen bottle for his emphysema, age 56
Getty Image # U1330-545 Permission required for the image above
R.J. Reynolds, Jr., in 1962, age 56, terminally ill with emphysema, caused by his lifelong smoking habit, holding an oxygen bottle. A photographer caught Dick during bitter divorce proceedings against his third wife, Muriel Marston Reynolds, outside the courthouse in Darien, Georgia. When this was taken, Dick had, he believed, only a short time to live – and would now spend some of it in a courtroom, doing battle with a woman he hated. When the divorce was at last final, he remarried Annemarie Schmidt, and died less than a year later, in Switzerland in December, 1964. Muriel fought on; the divorce would be overturned only to be later reinstated.
Permission / fee necessary to print the image above 
Please contact Getty Images about the above photo.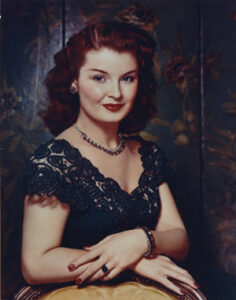 Co-author Patrick Reynolds' mother Marianne O'Brien Reynolds, age 30, shortly after her wedding to R.J. Reynolds, Jr. in 1946.
No permission required, credit Tobaccofree.org
Marianne in 1944, age 30
No permission required, credit Bruno of Hollywood (note signature on photo)
In order to marry Marianne, RJ Reynolds, Jr. paid $9 million to divorce his first wife Blitz (Elizabeth Dillard Reynolds), with whom he had four sons. Dick and Marianne would have two sons: Michael, born in 1947, and Patrick, born in 1948.
A starlet under contract to Warner Brothers studio, Marianne met Lieutennant Commander Dick Reynolds at San Diego's Hotel del Coronado in 1943, on the eve of his aircraft carrier's sailing for the Pacific. Facing the prospect of no contact with women for a very long time, Dick, well known because of much coverage by the tabloids in the 1920's and 30's, called the head of Warner Brothers and asked if they would send over some girls to mix with the sailors and officers who were about to head to war.
At the time Warner Brothers was unhappy with Marianne for refusing to take acting lessons, and assigned her, along with two other girls, to entertain the sailors. Marianne thought a starring role in a hit Broadway play, Doughgirls, was sufficient acting training, and she went grudgingly on the humbling assignment. But it was wartime and everyone did their part.
She and Dick liked each other at first sight and exchanged addresses. The next morning, Dick sailed off to war, and Marianne soon moved to a new address. She did not hear from him, and was disappointed because she liked him. It didn't help when the other two girls got nice thank you letters from Dick, along with some jewelry: an American eagle broach in red, white and blue made of diamonds, emeralds and rubies. Both wrote him to thank him, and told Marianne about it.
A few weeks went by, and her former roommate found Dick's package and delivered it to her. This one included not only the eagle broach, but several hundred-dollar bills as well. In his letter Dick asked Marianne to have pictures taken of herself, because "the money is better spent helping your career than moldering in some bank." He asked for copies. Marianne followed his wishes.
As they exchanged letters, they soon turned to letters vowing their love for one another, even though Dick was married at the time. Marianne mailed her new glamour photos to Dick, and autographed them to Dick. While other men had posters of pin-up girls like Betty Grable in their rooms, Dick had a real girl who adored him and was corresponding with him and pledging her love and devotion. Based on his letters to Marianne, Dick called his lawyer back home to initiate divorce proceedings against Blitz, his wife of 13 years and mother of their four sons.
Marianne began smoking during their long distance courtship, thinking it would please Dick. But he wrote that he was dismayed and angry she had taken up the habit, even though he was addicted to smoking himself.
Their long-distance correspondence resulted in Dick's proposing marriage to Marianne in the mail, and initiating a divorce from his first wife, even though he had met her on only one occasion. Dick agreed to pay $9 million to divorce first wife Blitz; the tabloids claimed it was the largest divorce settlement ever. He married Marianne the day after his divorce became final, on August 7, 1945. Like many women did at the time, she gave up her career to be a housewife.
Dick (RJR Jr.) would later name one of his larger sailing yachts the Scarlet O'Hara after Marianne – almost in anticipation of her well-publicized affair five years into their marriage with the notorious Latin playboy, Porfirio Rubirosa. The unwelcome press attention in Walter Winchell's column and by other outlets would publicly humiliate Dick. "Ruby" would go on to marry heiresses Barbara Hutton, Doris Duke and other women far wealthier than Marianne.
In the 1980's, during the writing of The Gilded Leaf, her son Patrick asked why she had the affair, after a couple of drinks together. This was always a taboo subject; Marianne had always refused to speak of it, and years later felt shame and remorse. But that night she replied angrily,
"Look, Patrick. I was standing on the deck of my husband's yacht, the 200' Zapala, watching the lights of Monte Carlo glittering on the shore. Every night by 5pm, your father had passed out from drink. Every night! I had designer gowns and furs, magnificent jewelry, and I was young and drop-dead beautiful — but I was a prisoner on that boat.
"So when Rubirosa and his friend, Ali Khan, son of Prince Aga Khan and a leader of the Muslim world, began calling the yacht, saying, 'Marianne, come to dinner! Come to the casino!' – by God, I went ashore. He followed me to Rome, then Paris, then Miami, where I gave in to him. It was the biggest mistake of my life, because I lost the man I truly loved – Dick Reynolds, your father. I would never get over him." Dick and Marianne divorced in 1952, and she got only $2 million because of her affair.
During the 1950's she was courted on the French Riviera by Aristotle Onassis, Georgie Gessel and Woolworth heir Wooley Donahue. In 1970, Marianne finally remarried, to longtime beau Lee Meyers in Monte Carlo. He was TV star Jackie Gleason's Jewish press agent and friend. Both drinkers, they later divorced. Toward the end of her life, Marianne would suffer from angina, two heart attacks and obesity. Sadly she died at 67 in Miami in 1985, of a stomach aneurysm.
Above: This image was on the cover of The Gilded Leaf, First edition, 1989 (Little Brown)
No permission required, credit Tobaccofree.org
An actual tobacco leaf was plated in gold and presented to Patrick Reynolds as a wedding gift by a German man who invented this process. It was on the occasion of Patrick's first marriage to Regine Wahl Reynolds DeGarduno, held in the Bavarian Alps in Germany in July, 1985.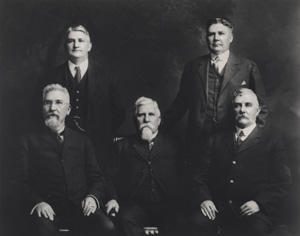 Above: Following their father's model, all five Reynolds brothers went into the tobacco business. Some worked for R.J., others for Abram, and later switched. Seated, from left: R.J., Abram, and Harbour; standing, from left: Walter and Will about 1915
No permission required, credit Tobaccofree.org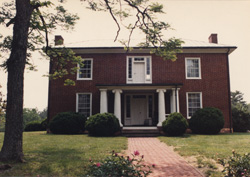 Above: Where it all began: Rock Spring (above), in southern Virginia, seemed a very modest starting place for two separate fortunes. RJ Reynolds' childhood home is known today as the Reynolds Homestead. In Critz, VA, it is now a museum and community center, restored and endowed in the late 1960's by Nancy Susan Reynolds, one of RJ the founder's four children.
No permission required, credit Tobaccofree.org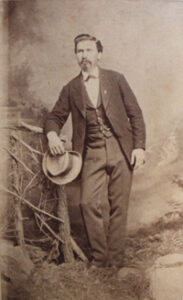 Above: RJ Reynolds' eldest brother and rival Abram Reynolds, about 1872. Abram founded his own, separate fortune in tobacco, and later became an early advocate of prohibition. A Christian revivalist, Abram sold his tobacco company and founded the Lustre Bubbles Soap Company. His land was rich in bauxite, an ingredient in both soap and aluminum; his son RS Reynolds, trained in business by business titan and Uncle RJ, would found Reynolds Metals, and help popularize aluminum foil. RS was an heir to something more valuable than a large inheritance at a young age; he had RJ's training and mentoring in business.
No permission required, credit Tobaccofree.org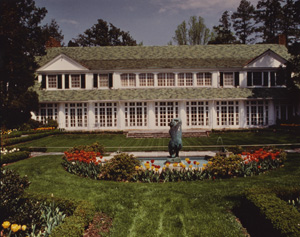 Above: The thousand-acre Reynolda estate in Winston-Salem was founder R.J.'s primary residence for only a few months. Shortly after moving in, the patriarch died of cancer of the pancreas. Ironically R.J.'s death may have been caused by a lifetime of chewing tobacco, the same product that initially made him wealthy.
In 1932, his son Smith Reynolds would die tragically at Reynolda. Today the estate is an art museum and community center.
See below for the interior of the great living room at Reynolda.
No permission required, credit Tobaccofree.org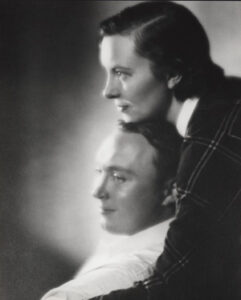 Above: In 1934, on his 28th birthday, Dick and Blitz took possession of his inheritance of more than $25 million. "I know it's a lot of money, but I can't get excited," Dick Reynolds told reporters.
No permission required, credit Tobaccofree.org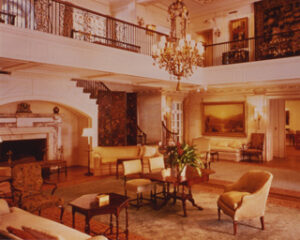 Above: The interior of the great living room at Reynolda.
No permission required, credit Tobaccofree.org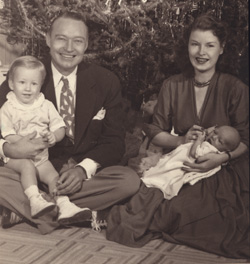 Above: Michael, Dick, Marianne, and baby Patrick, in December, 1948, before the fantasy crumbled.
No permission required, credit Tobaccofree.org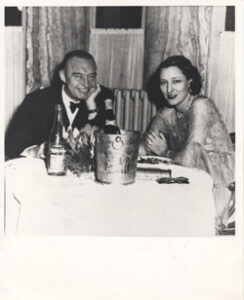 Above: Dick with third wife Muriel Greenough Reynolds at a nightclub in the mid-1950s; later he was convinced she wanted to murder him. In marrying wife number three, Dick left behind a second set of sons, having earlier abandoned the four boys from his first marriage. Muriel later died of lung cancer caused by smoking.
No permission required, credit Tobaccofree.org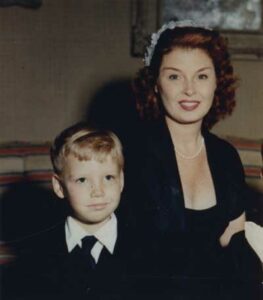 Above: In the wake of his parents' divorce when he was three, Patrick longed for his father. But Dick had abandoned his sons, much as he done to his older sons by first wife, Blitz. Dick moved on to his new life with Muriel, sailing his new yacht, the 110′ sailing yacht Aires, in the Pacific islands.
No permission required, credit Tobaccofree.org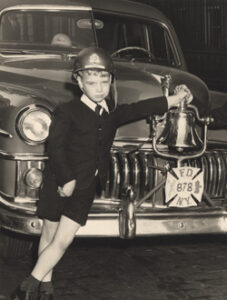 Above: Patrick, age 7, in front of a Fire Department of New York official's car. The child shut down his sadness and anger with a sunny-boy disposition; Dick would not see Patrick for six years.
No permission required, credit Tobaccofree.org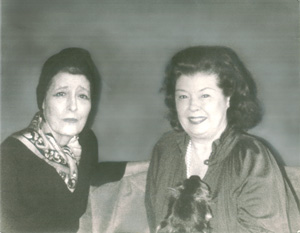 Above: In later years, after years of bitter acrimony, wife number three, Muriel Marston Reynolds (left), and wife number two, Marianne O'Brien (right), would become friends. In Palm Beach and Monte Carlo, the two former Mrs. R.J. Reynoldses met and commiserated, both believing that Annemarie was somehow involved in Dick's seemingly premature death, though they thought they'd never prove it. Dick's unwitnessed, two-page handwritten will left everything to wife number 4, Anne Marie Schmidt Reynolds, after less than three years together. Marianne and Muriel suspected foul play, but there was no evidence of that.
No permission required, credit Tobaccofree.org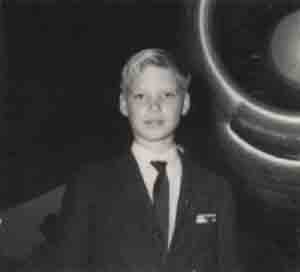 Above: Patrick, age 10
No permission required, credit Tobaccofree.org
Above: Patrick on his way to see his father on Sapelo Island off the GA coast, in front of an early Delta Boeing 707. At this time, Dick was the largest shareholder of Delta Airlines.
A year before, at age 9, Patrick wrote to his father, who then dispatched one of his fleet of small private planes to bring him and Michael to his North Carolina mountain retreat. When they met him for the first time in 6 years, the boys found their father lying down, ill with emphysema, caused by smoking the family brands. Their father Dick 's death in 1964 would later set the stage for Patrick to speak out publicly against the tobacco industry.
Earlier, in the 1920's, in the early days of aviation, Dick had a teenage fascination with flying; Orville Wright signed Dick's pilot's license. His younger brother Smith Reynolds was even more passionate about aviation, and would attempt the first round-the-world flight in a small plane. His plane broke down near Hong Kong.
Dick would later invest in airlines; his tiny Reynolds Aviation became Piedmont Air, which later merged with US Air. Dick switched his holdings into Eastern Airlines, and later Delta. By the time the photo above was taken of Patrick in front of an early Delta 707, Dick was the largest shareholder of Delta Airlines. Patrick was on his way to visit his father on his Sapelo Island estate, located just off the Georgia coast.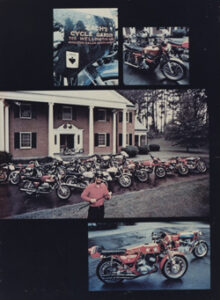 Above: Patrick's older half-brother Zach had the world's largest collection of motorcycles and the world's largest ham radio station of its time (c 1972). This is a posthumous spread from a motorcycle magazine.
No permission required, credit Tobaccofree.org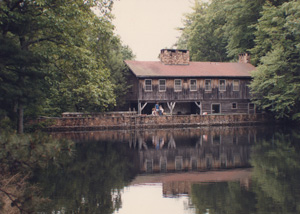 Above: RJ Reynolds., Jr. and first wife, Blitz, built estate ten times the size of Reynolda, near Zephyr, North Carolina, in the foothills of the Appalachian mountains. They would call it Devotion, a name – an action – that would reflect the young couple's strong feelings for each other.
Hundreds of men labored on its construction, and Dick, then Mayor of Winston Salem and contemplating a run for Congress, was deeply beloved by the community for creating so many jobs. Some of them called it Dick Reynolds' own WPA jobs program.
The four story main lodge, above, was built atop a large dam, creating an artificial lake which Dick stocked with trout. He commissioned the entire circumference to be lined in slate, in part to keep the men working a few months longer. He then commissioned yet another dam on the property, some 70′ high; this created a second, much larger lake. As the depression wore on, Dick also had the circumference entirely lined in hand-placed slate.
When Patrick interviewed locals for this book, more than one man in his 80's cried at the memory of the charismatic tobacco heir.
No permission required, credit Tobaccofree.org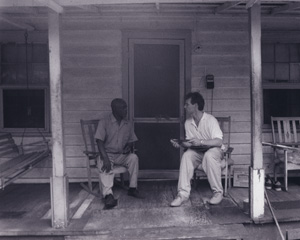 Above: Patrick Reynolds interviewing one of Dick's former employees at Hog Hammock, on Sapelo Island, 1987.
No permission required, credit Tobaccofree.org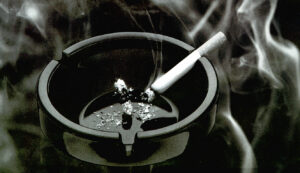 No permission required, credit Tobaccofree.org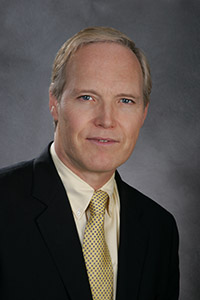 Patrick Reynolds in 2006
No permission required, credit Dave Phlederer
23 MB poster size, for lecture promotion
Above: Patrick first spoke out publicly in 1986 against the tobacco that was the foundation of his family's fortune. In 1989, he founded Tobaccofree Earth, and in 1994, launched the website, tobaccofree.org and later, Anti-smoking.org.
In 2007 he released a new DVD for families, A Talk With Your Kids About Smoking. Today Mr. Reynolds is a frequent speaker at colleges, middle schools and high schools, and educates youth through his 501c3 non-profit group, Tobaccofree Earth.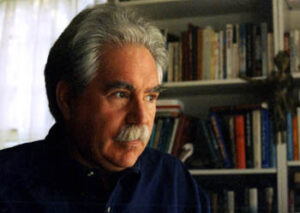 No permission required, credit Mark Connolly 
Above: Critically acclaimed author Tom Shachtman has written more than two dozen books and many television documentaries. The Economist called his AROUND THE BLOCK: THE BUSINESS OF A NEIGHBORHOOD (1997) "a near-classic," The New Yorker, "A grand idea, splendidly executed."
His ABSOLUTE ZERO AND THE CONQUEST OF COLD (1999) was hailed by The New York Times as written "with passion and clarity," and by the Atlanta Journal-Constitution as "an absolute delight."
Publisher's Weekly gave a starred review to RUMSPRINGA: TO BE OR NOT TO BE AMISH(2006), saying, "Shachtman is a sensitive and nimble chronicler …he uses the Amish rumspringa experience as a foil for understanding American adolescence, and identity formation in general…This is not only one of the most absorbing books ever written about the Plain People, but a perceptive snapshot of the larger culture in which they live and move." Library Journal said, "A fascinating and near-unprecedented glimpse into the inner lives of Amish society…Sensitively addresses the unique position of the Amish and the challenges they face. Highly recommended."
For more details or to email Tom Shachtman, see his website, www.TomShachtman.com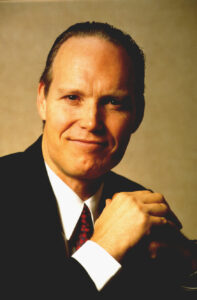 Patrick Reynolds in 1992
No permission required, credit Tobaccofree.org
Poster size for lecture promotion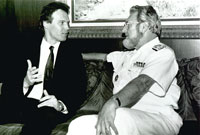 Patrick Reynolds and former Surgeon
General C. Everett Koop, 1989
No permission required, credit Tobaccofree.org
Former Surgeon General C. Everett Koop commented, "Patrick Reynolds is one of the nation's most influential advocates of a Tobaccofree Earth. His testimony is invaluable to our society." They met on May 3, 1989 in Washington, D.C. In December, 2003, Dr. Koop renewed this statement of support for Patrick and the 501c3 non-profit group he runs, Tobaccofree Earth. 
---
More images and videos 
Press info and high res photos for Patrick Reynolds' speaking clients
Images from Patrick Reynolds' educational DVD for grades 6 – 12, The Truth About Tobacco, filmed in 2000
For info / photos of Tom Shachtman, see TomShachtman.com
Videos:
TobaccofreeOrg's You Tube channel
Patrick Reynolds Actor, YouTube Channel
Patrick's mother, Marianne O'Brien: Clips from a 1942 film
Be An Elf, Christmas charity founded by Patrick Reynolds
Congress Majority PAC, founded by Patrick Reynolds in 2016
Contact: Tobaccofree.org, Office Manager

Tel: 1 310-577-9828
Cell: 1 310 880-1111