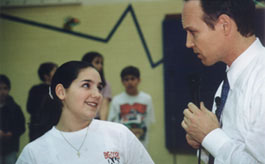 Tobaccofree Earth was founded in 1989 by Patrick Reynolds, a grandson of the founder of the R.J. Reynolds Tobacco Company. A former pack-a-day smoker, Patrick saw his father, oldest brother and other relatives die from cigarette-induced emphysema, heart disease and cancer.
Concerned about the widespread death, disease, and emotional and economic hardship caused by tobacco, Patrick Reynolds divested his RJR stock, quit smoking and became, in the words of former Surgeon General C. Everett Koop, "one of the nation's most influential advocates of a Tobaccofree Earth."
Since first speaking out publicly in 1986, Mr. Reynolds has testified before Congress, as well as State and municipal legislatures, on a wide range of tobacco issues. His actions have earned him the praise and admiration of his colleagues, including the World Health Organization, which honored him in 1988, and the Mount Sinai Hospital Group of Chicago, which named him "Humanitarian of the Year" in 1989.
Patrick Reynolds' name, his story and his dedication to improving the health of present and future generations make him a unique and powerful spokesman against smoking.
Each year since founding Tobaccofree Earth, Mr. Reynolds has spoken before dozens of universities, high and middle schools, and before numerous health conferences and medical forums. The press has been invited to the great majority of his talks, and his appearances have received wide and very positive coverage in print and broadcast media. In this way he has helped build excellent goodwill for the Foundation.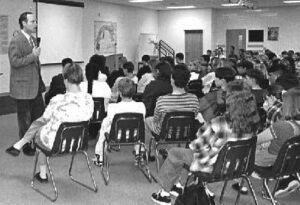 Mr. Reynolds was partly motivated by the deaths of his father and other family members from tobacco use, and partly by his own ten year struggle to break an addiction to cigarettes. He has noted that, "When my grandfather began manufacturing cigarettes at the turn of the century, he did not know that smoking causes lung disease, heart disease and cancer. Now that this has been absolutely proven, I want to help people wake up to how addictive and poisonous cigarettes are."
Since beginning his tobacco free advocacy work in 1986, Mr. Reynolds has had nearly one thousand media interviews in over 250 cities and in Europe, and has given numerous lectures before schools, colleges, and health organizations. The organization has a mailing list of ten thousand names nationally.
All of this has been accomplished with part-time staff and a small home office. The successes to date have been based on the dedication and knowledge of the founder, Patrick Reynolds, and on the public response to his concerns.
Public Response
Public response to Patrick Reynolds' work, and resulting interest in Tobaccofree Earth, has been tremendous. Recent media coverage of Mr. Reynolds' lectures and news conferences includes articles in the Los Angeles Times, USA Today, The Wall Street Journal, Chicago Tribune, The New York Times, New York Daily News, Denver's Rocky Mountain News, Arizona's Republic, Time, Newsweek, U.S. News and World Report, Associated press, Germany's Der Stern, Japan's Shinbun, and more. Mr. Reynolds has also recently appeared on The today Show, Good Morning America, CNN Headline News, Larry King Live, ABC World News, CNBC and many other prestigious television programs.
Tobaccofree Earth has had success as a volunteer based organization. As a consequence of Mr. Reynolds' lectures, television and radio appearances, hundreds of callers who read about or saw Mr. Reynolds have phoned in to make donations or volunteer time to Tobaccofree Earth. Many of them are now assisting the organization, or are on standby to give of their time and professional skills. Their addresses, phone numbers and skills are always captured and entered into our data base. Callers are often referred to local organizations in their own cities, fighting for a particular issue the caller is interested in.
But public response has overwhelmed the capacities of a volunteer-run organization. The Board of Directors and Patrick Reynolds know it is time to hire additional staff for the organization. Because of his commitment, for the first ten years, Reynolds allowed the organization to operate out of his own modest home. This is a man whose work is worthy of support; and the potential for the organization is enormous.
For more detailed information, please
see our Programs and Statements of Support.