By ANGELIA JOINER Staff Writer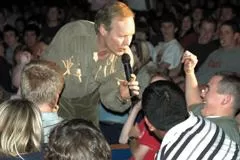 Patrick Reynolds, nationally known anti-tobacco speaker, attended a breakfast in Granbury Monday morning and was surprised that attendees were smoking.
That's just not something I'm used to, Reynolds said. I live in California where there is a state wide smoking ban in restaurants, bars and nightclubs.
Reynolds created The Foundation for a Tobaccofree Earth and spoke at Stephenville High School Monday afternoon at a special assembly for freshman and sophomores, a group of about 600.
Reynolds talked to the students about family members he had lost from tobacco related illnesses. He said he didn't see his father growing up very much but remembered him lying on a bed gasping for breath and asking what was wrong. He said his father said he had asthma. He remembered asking his father if his illness had anything to do with smoking.
Reynolds said his father later died from emphysema, not asthma.
Tobacco took my dad away from me. That's why I have turned my back on the R.J. Reynolds Company to educate you on the dangers of tobacco, he said.
In a personal interview, Reynolds said his father inherited 10's of millions in the depression and did not work. He said his father let the money work for him. He gave most of the fortune to charities and did not leave his children a huge fortune Reynolds said.
My father felt the money had affected him in a negative way and did not wish the same for us, Reynolds said. What money I did inherit, I lost most of it in a failed stop smoking program. It was the best thing that ever happened, I needed to sharpen up and go to work. I'm at peace with it.
Reynolds explained to students how the tobacco companies target kids in their ads and showed examples.
How stupid do they think you are? he said.
Reynolds had two students role play ways they could approach their parents to stop smoking.
Kathy Swindle of Star Council said the Erath Coalition paid Reynolds travel expenses and Wal-Mart Supercenter, Stephenville Optimists, Harris Methodist-Erath County Hospital and Allstate Insurance paid the $1500 speaking fee.
Reynolds spoke earlier in the day at Granbury High School and his appearance there was sponsored by Star Council's Hood-Summervell County Coalition.