By Félix Alfonso Peña
Reading Eagle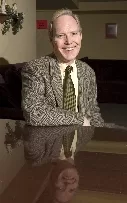 Reading, PA – The tobacco companies are going after your children, and Patrick Reynolds is happy to tell you how they are doing it.
Reynolds, an anti-smoking advocate and grandson of tobacco company founder R.J. Reynolds, showed 75 people at the Daniel Torres Hispanic Center how the companies market cigarettes to young people.
"How about a Kauai Kolada or a Twista Lime?" he asked, showing a slide of Camel cigarette brands in those flavors.
"Twenty percent of smokers aged 17 through 19 smoked flavored cigarettes in a 30-day period," he said. "Only 6 percent of adult smokers over 25 did so."
Reynolds also showed Camel cigarettes such as Winter Mocha Mint and Warm Winter Toffee, among others.
The attorneys general of 7 states, concerned about the candy-flavored appeal to children, struck a deal with the RJ Reynolds Co. to remove candy-, fruit- and alcohol-flavored cigarettes from the market.
So, what happened?
"A new, small tobacco company was formed and has resumed marketing candy-flavored tobacco products," he said.
To take advantage of the black community's preference for menthol-flavored cigarettes, Reynolds said, they market cigarettes such as Kool Filter Kings in packages featuring a hip-hop theme.
He said one promotion with that theme included a free stick radio packaged with two packs of cigarettes.
Reynolds was still a boy when he lost his father to emphysema, and he would lose other close relatives, including his oldest brother, R.J. Reynolds III, to cigarette-induced illnesses.
The company that bears his grandfather's name is still among the leading cigarette producers in the nation, although no Reynolds family member holds a prominent position there.
Reynolds, a former actor, appeared on numerous television shows and in films, but in 1986 he realized that he could be a voice speaking out against the hazards of smoking.
Thursday's program in Reading was sponsored by the Council on Chemical Abuse and the Center for Disease Control Foundation. It was coordinated by the Hispanic Center's Tobacco Prevention Program.
Guillermo Castillo, 35, of Reading said he attended the program because he wants to stop smoking, a habit he began at 17, and which he has tried to give up several times.
"I took up the habit because my father, who worked for the railroad, smoked," he said, recalling growing up in the northern Mexican industrial town of Monterrey. "Tonight, I want to get information about how to stop."
Castillo picked up some brochures in Spanish, which is still his first language, even though he has taken English classes. Throughout the presentation, he and several other Spanish speakers sat near an interpreter, who translated for them.
Castillo said he would share any tips with his family members through the Internet.
Reynolds, a passionate advocate for a smoke-free society, believes that society is at what he called the tipping point, ready to push for strong legislation that would reduce smoking and its consequent damage to health.