Pensacola News Journal
March, 27, 2007
Students asked to kick the habit
Thousands of local students were bused to Pensacola Naval Air Station on Tuesday morning and asked to kick butts.
Cigarette butts.
Patrick Reynolds, grandson of tobacco giant R.J. Reynolds, has become a national advocate for a smoke-free society. He spoke to nearly 3,500 students in an aircraft hangar at the Naval Air Station.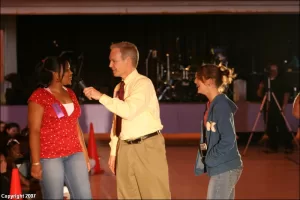 Reynolds shared the story of his father's death from smoking, discussed tobacco's addictive nature, and shed light on the inherent risks of using tobacco.
He said he hoped to encourage them to choose hope over tobacco.
"With the war and everything else happening in the world, a lot of kids think, 'Why bother?'" Reynolds said. "But hopefully they will be inspired to have more faith in their future."
Reynolds said a big part of that is making healthy choices, like choosing not to smoke cigarettes.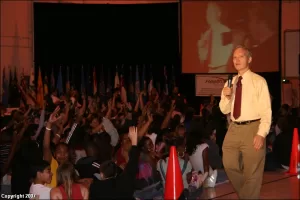 "I hope they have had their eyes opened about addictions and how the industry is targeting them," he said after speaking to the kids. "I hope they were moved."
And at least one student was.
Mionca Armsted, 13, said she was touched by the speech.
"It was inspiring to see someone who would go against their family to do what they really believe in," said the Holley-Navarre Middle School student. "I already knew most of (the information about smoking), but it was still reassuring."
Reynolds also spoke to about 5,000 sailors from the Pensacola Naval Air Station Tuesday afternoon.
"I lost both parents to smoking-related illnesses, so I saw it first hand," said Capt. Bob Fiegl, commanding officer of the Naval Air Technical Training Center. "We are happy to do anything we can to heighten the awareness."
During his three-day tour Reynolds will address 10,000 students from the two-county area.