by Dick Mason, The Observer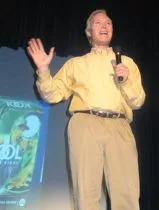 Patrick Reynolds speaks about
the evils of tobacco during a
presentation at La Grande High
School. Reynolds, who is from
Los Angeles, said that 90 percent
of those who smoke were addicted
to tobacco by age 19.
The boy's father was on oxygen and dying of emphysema — emphysema caused by smoking the cigarettes that had made Reynolds' family wealthy. Patrick's father was the son of R.J. Reynolds, founder of the enormously successful R.J. Reynolds tobacco company.
Patrick Reynolds, who had not seen his father in six years after his parents divorced, saw his father only five more times before he died six years later.
"Every time he was increasingly sick and frail, and counting the time he had left to live,'' Reynolds said Friday during a presentation at La Grande High School.
Later, Reynolds' aunt and oldest brother died of diseases caused by smoking. The premature deaths caused Patrick Reynolds to reconsider his life course.
He then chose to take a road less traveled.
Reynolds sold his stock in his family's company and started the Foundation for a Tobaccofree Earth.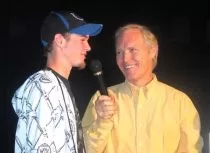 ADDICTIVE BY NATURE: Patrick Reynolds
talks with La Grande High School senior
Shawn McAdams during his presentation
at LHS about the addictive nature of
tobacco and its harmful effects.
"I chose to totally turn my back on my family's business and walk away — and do everything in my power to connect with young people and persuade them to stay tobacco free,'' Reynolds said.
He has not regretted his decision. Today his conscience is clear.
"In the Bible it says that virtue is its own reward. It feels so good to do the right thing,'' Reynolds said.
He is leading the charge against tobacco because of its extremely addictive properties.
"Once you start, you may not be able to stop — ever,'' said Reynolds,who lives in Los Angeles and has spoken to more than 150,000 people at high schools, universities and hospitals.
Reynolds said that a study released in 2000 revealed in frightening fashion how addictive cigarettes are. It showed that just one quarter of 11- to 13-year-olds who smoke as few a two or three cigarettes a day become addicted in just two weeks.
Once addicted, the odds against successfully quitting are high. Reynolds said that 85 of 100 people who quit by using aids such as the nicotine patch or special gum are smoking again within a year. Of those who quit without assistance, 95 are back smoking in a year.
Still, people should draw hope from these numbers, Reynolds said. They indicate that smokers have a three times greater chance of permanently quitting if they do so with the aid of a program. Reynolds urges all people with a tobacco addiction to seek help..
"People who are successful at living life typically get plenty of help. For example, in business, a successful businesswoman or businessman gets a lawyer to write the contracts, an advertising agency to to create the ads, an accountant to do the accounting. … People succeed in life because they connect with other people.''
Reynolds knows personally how hard it is to quit. Reynolds said he experimented with cigarettes as a teenager and by age 18 he was addicted.
"For the next 17 years, I tried and tried again to quit. I failed a dozen times,'' Reynolds says on his foundation's web site, tobaccofree.org.
He said he finally quit smoking for good in 1985.
"Quitting smoking was one of the hardest things I ever did.''
Reynolds also spoke of the evils of chewing tobacco. He told a powerful story of Sean Marsee, a high school track star in the Midwest. The boy started using chewing tobacco in high school because others on his track team were also using it. During his senior year doctors found a malignant tumor on his tongue caused by the use of chewing tobacco. Surgeons had to amputate his tongue, costing Marsee the ability to talk. A short time later doctors had to remove part of his left jaw because the cancer had spread.
The before and after photos Reynolds showed of Marsee were horrifying. Despite everything the doctors did it was too little, too late. The cancer had spread too quickly for doctors to save Marsee and he died at age 19.
Most youths who use tobacco do not die by age 19. But almost all who started young are hooked by that age. Reynolds said that 90 percent of adults who use tobacco today were addicted to tobacco by age 19. Tobacco companies are keenly aware of this statistic.
"They know that if they can't get you to smoke by the age of 19, they will not get you as a customer,'' Reynolds said.
This explains why tobacco companies focus their advertising on young people. It is why the wildly popular Joe Camel character was created for ads in the late 1980s, one which helped lead a surge in youth smoking in the 1990s.
"Joe Camel was more familiar (in the 1990s) than Mickey Mouse,'' Reynolds said.
Marlboro cigarette ads were also focused upon during Reynolds' presentations. He said that one popular ad shows people standing around a campfire smoking and having a good time. The anti-tobacco crusader then shows a photo spoofing the Marlboro ad. In the photo are a group of employees standing outside their office smoking because they are not allowed to do so inside.
"If you smoke now, you leave the campfire circle,'' Reynolds said.
Today most Americans are outside of the campfire circle — just one in five smokes.
"Think abut this: nowadays, being a nonsmoker is the norm.''
Reynolds spoke to middle school and then high school students Friday. At both presentations he asked how many had parents and friends who smoke. A significant number of students raised their hands. Reynolds then discussed ways they could convince their parents and friends to stop smoking. He emphasized that all such discussions should start with a sincere compliment followed by a discussion focusing on how much they care about their loved one or friend and how much their smoking worries them.
"If you call someone a fool, you lose them. They tune out. On the other hand, if you approach them in a warm, friendly manner and tell what you're feeling, your friend or loved one will open and really hear what what you have to say.''
Reynolds urged students throughout his presentations to speak from their inner core of feelings.
"You will connect if you talk from the heart. When you talk from the heart, you are a powerful communicator,'' he said.
Reynolds worries that many people will be driven to smoking, drugs and alcohol today because they are discouraged about the future. He believes that a feeling of optimism should prevail instead. Reynolds said he is convinced that the war in Iraq will end, global warming will be successfully addressed and the economic crisis will be solved.
"I have this great faith that wondrous things will happen,'' he said.
Cigarettes will be missing from the future he speaks so hopefully about.
"I am sure that a tobacco-free society is coming. It will come one day because of you.''
Reynolds was brought to La Grande by the Tobacco Free Teens Project. It was started in Union County by Carolyn Bloyed of La Grande, who raised money for Reynolds' talks The major sponsor of the anti-tobacco presentations was Grande Ronde Hospital. Other sponsors included the La Grande School District, Grande Ronde Recovery, Patrick Nearing, Blue Mountain Auto, Eastern Oregon University, Red Cross Drug, Kiwanis Club, the Center for Human Development and The Observer.