ABC TV2 Baltimore
Tobacco Heir Lobbies Against Tobacco Use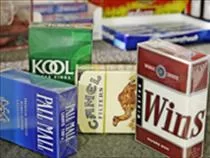 You may not know who Patrick Reynolds is, but you probably know his family name.
Reynolds is the grandson of cigarette company founder, R.J. Reynolds. He is also an advocate for a smokefree society.
He visited the Forbush School at Glyndon in Reisterstown warning them about the dangers of smoking. Reynolds also spoke to the community at Sheppard Pratt's conference center in Towson.
Reynolds offered his inspirational message of hope, which concludes, "Hold on to your health – you'll need it in the incredible, amazing years ahead."
A major population survey found that people with mental illness smoke 45% of all cigarettes smoked by adults in the United States, and cigarette smoking is a patient's single most deadly health habit.
Mr. Reynolds also discussed tobacco control efforts in Maryland, and outlined the policies which have been proven to work effectively in reducing smoking rates among youth and adults.
This event was part of the health system's smoke-free campus initiative.