By Vernon Redd
Staff writer
Terrence Wilson got the point.
Don't use tobacco.
Nationally known activist Patrick Reynolds, grandson of tobacco company founder R.J. Reynolds, delivered the message to about 220 students in the main gymnasium at Test Middle School on Wednesday morning.
"It was a pretty strong message," Wilson, an eighth-grader, said.
Reynolds talked about the dangers of using tobacco and showed how companies use slick advertising to market products to youth.
He gave tips on how to approach people to try and get them to quit using tobacco.
"I'm willing to try it," Alicia Stinson said.
Reynolds' speech especially hit home with Stinson. She said people in her family smoke, and it makes her feel ashamed.
She wants them to stop, "so they can live a full life."
Reynolds said nagging people to stop would only make them tune out. Start with a compliment and work from there.
"People who connect with other people succeed best," he said.
Reynolds' dad, oldest brother and aunt died from smoking-related illnesses. He made headlines in 1986 when he spoke out against tobacco companies and their products. In 1989, Reynolds founded The Foundation for a Tobaccofree Earth.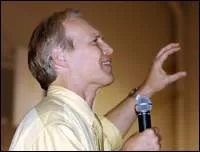 Test Middle School student Terry Johnson listens to the anti-tobacco message from Patrick Reynolds on Wednesday morning.
Reynolds, below, is the grandson of R.J. Reynolds, a tobacco company founder.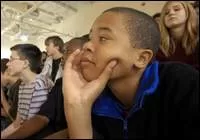 He closed the hour-long lecture with a story about a teenager who died at age 19 because of cancer related to smokeless tobacco.
Pictures showed the boy as a healthy high school track star at age 17.
Two years later, after surgery to remove cancer from most of his tongue and part of his neck, he died.
Wilson said the imagery was shocking.
"I have friends that smoke," he said, "and not doing it, well, sometimes you feel like you're not part of the group."
Wilson wore a white and red jersey to the convocation. He wants to be a professional football player.
"Using tobacco or drugs will prevent me from that," Wilson said.
Reynolds gave a speech Tuesday night at Reid Hospital and another early Wednesday morning before coming to Test.
He gave a similar lecture at Dennis Middle School. Reynolds also spoke at Reid's monthly Women on Wednesday's program.